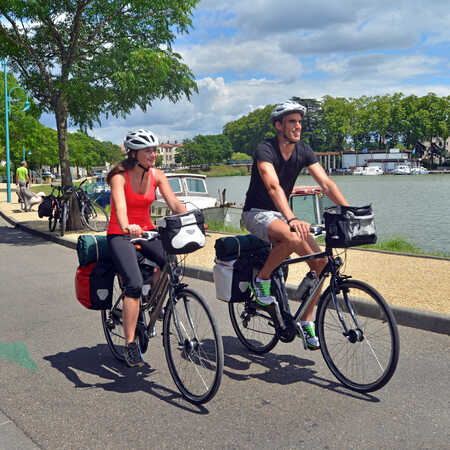 Sur le port d'Agen à vélo © Le Canal des 2 mers à vélo - J. Damase
south
Route condition on the Canal des 2 Mers à vélo
Road surface on the Canal des 2 Mers à vélo
Remember that hiring a bicycle is a good option either to be sure of having a well-equipped bike in a good state of repair, or maybe to complete the needs of a group cycling together.
⚠ If you are intending to do the whole route, best opt for a well-equipped hybrid bike : large tires, bike suspension ...
Before heading out on your cycling trip, remember to check:
- your brakes
- your lights
- your gears
- your tyre pressures
Attention ! In the Aude and Hérault, the development of the route is incomplete. To cycle some of the few bumpy trails, be vigilant and opt for adapted equipment. Your taste for adventure will be rewarded by the charm of an exceptional natural setting.
From Royan to Vitrezay
As this part of the route is still being completed at time of writing, there are a few kilometres of uncomfortable, steep tracks to negotiate. However, a classic hybrid bike should suffice, as only a few portions of the 70km of this section are concerned, on stretches of less than 3km at a time.  
From Bordeaux to Port-Lauragais
As this whole portion is tarmacked, a classic hybrid bike is absolutely fine for this stretch.
For family cycling outings with small children, consider a bicycle trailer or a third wheel option, which offer more comfortable solutions for young children than a child's seat attached to the back of a bike. This kind of additional equipment can be rented from bicycle-hire companies for the duration of your cycling trip.
⚠ From Port-Lauragais to Sète ⚠
As this portion of the route is still being completed at time of writing, many of its stages do present certain difficulties, for example with rough surfaces and tree roots sticking out…
In particular, note that using a trailer would be difficult for the time being along this portion.