26,53 km cycling route from Agen to Valence d'Agen
Leave Agen's port via a greenway. The way continues close to the Garonne, although the river is rarely visible from beside the canal. After Lamagistère, you enter Valence d'Agen, passing close to former abattoirs superbly converted into an information centre. The town was built as a fortified bastide in the 13th century. Admire its covered market, dovecotes, washhouses and port. Every summer, the show entitled Au Fil de l'Eau une Histoire revives the town's important past as a port.
Waytypes of the stage
Cycle path: 26,29 km
By road: 0,24 km
Surface of the stage
Lisse: 8,43 km
Inconnu: 18,09 km
The route
This stage is along a well laid-out and signposted greenway.
SNCF train stations
Agen train station
Lamagistère train station
Valence d'Agen train station
Tourist offices
Accommodation on the stage
They did it!
favorite
Le canal des 2 mers de Royan à Sète par Céline
favorite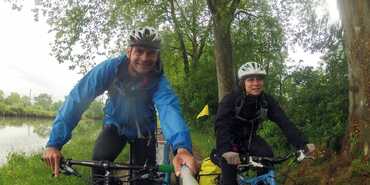 De Toulouse à Hossegor avec un bébé d'1 an !
favorite
10 jours en famille sur le Canal des 2 Mers à vélo !