23,13 km cycling route from Castelnau-d'Estrétefonds to Toulouse
You can sense the outskirts of the huge regional metropolis of Toulouse long before reaching the centre of 'the pink city', as it's nicknamed. Sticking to the Canal de Garonne, its historic tranquillity contrasts with the rampant urbanisation beyond. You enter Toulouse at the junction of the Canal de Garonne, the Canal de Brienne and the Canal du Midi, at the level of Les Pont-Jumeaux. Then a cycle track beside the Canal du Midi takes you into the city centre.
The route
The greenway alongside the Canal de Garonne is well laid out and safe for cyclists. For the final stretch to reach Toulouse city centre, use the cycle track beside the Canal du Midi.
SNCF train stations
Castelnau-d'Éstrétefonds and St-Jory trains station :
TER regional trains serve  > Toulouse; Montauban (3 to 7 trains daily)
Toulouse-Matabiau train station :
TER regional trains and Intercités trains serve > Montauban/Agen/Bordeaux ; Castelnaudary/ Carcassonne/Narbonne/ Béziers/Sète/Montpellier (many trains daily)
Other connections from Toulouse pour Brive/Limoges/Paris ; Albi/Castres/Rodez/Figeac ; Tarbes/Pau/Foix.
Tourist offices
Accommodation on the stage
Did you like this?
You may also be interested in this...
They did it!
favorite
Le canal des 2 mers de Royan à Sète par Céline
favorite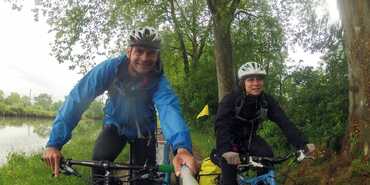 De Toulouse à Hossegor avec un bébé d'1 an !
favorite
10 jours en famille sur le Canal des 2 Mers à vélo !